Working On The Ground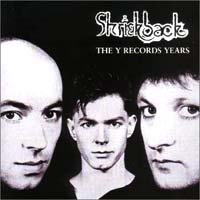 Shriekback
- an early '80s post-punk supergroup, formed by former Gang Of Four bassist Dave Allen and former XTC keyboardist Barry Andrews. They dispensed with the rock of their old bands and set about concentrating on rhythms. Not dance music in the traditional sense though. They were more experimental, constructing shifting beats and topping them off with ambience and leftfield synth art, and then Barry added his vocals, often messed with for added effect. I was fascinated with their sound - they were pretty unique and hard edged. I bought the early 7"s and 12"s and then watched as over the years they lost that edge and became more concerned with mainstream crossover appeal. A 2CD set of their earliest output was released in 2000 called
The Y Records Years
. It's 24 tracks comprise all of the songs released by that venerable label (also home to the Pop Group, Maximum Joy, Pigbag and Diamanda Galas). I was listening to it today, and some of it holds up pretty well with music's current fascination with '80s sounds. These three tunes from the comp represent for me all of the classic traits of the band...
Working On The Ground
is all about the rhythm - there's lots of beats, a bit of bass, some key noises and layered vocals that build up as the tune goes on.
Despite Dense Weed
shows a thicker, fuller sound, with nice clattery percussion, a big bass line and Barry's deeper-than-deep vocals, multitracked and panning around the mix. I like the weird ethnicity of the fade out.
Lined Up (Disco Mix Instrumental)
is a "version" of one of the band's finest moments. It's all about the bass line on this - one of the chunkiest riffs ever put down. I also like the rough clavinet and the drum programming and the backing vocals and the melody and the breakdown and the buildup after the breakdown - you get the idea!