Funky Friday Is All For You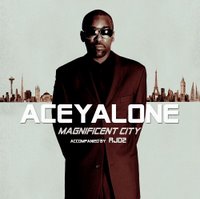 Aceyalone
has a been a blip on my musical radar for many years now. It began in '93 with
Innercity Griots
by his West Coast posse Freestyle Fellowship. More Native Tongues than the left coast's own G-funk, it remains an under rated classic of it's time. By '95 Acey was solo, releasing
All Balls Don't Bounce
. Thus began a solo career filled with guest spots, some more Freestyle Fellowship music, and now this week the release of his latest solo record
Magnificent City
. If you look closely at the cover you'll see another name displayed - "accompanied by RJD2". I'm a
big
fan of RJD2. I love his style, his beats, and his willingness to experiment with his formula by adding touches of '70s rock and '80s new wave and Spanish horn charts. All of those elements that made his 2004 LP
Since We Last Spoke
such a success have now been applied to Aceyalone's record, and it turns out to be a very inspired collaboration. The beats are fresh, the music is catchy and I'm hooked. The first track is
All For U
, and it's on. Big horns, crunk beats and it's getting all Rocky Balboa on your ass - Acey's gonna knock you out - "I'm Aceyalone, how can I be of service? / What else do you need beside superb wordage?". The rest of the album is just as entertaining, and flows smoothly and with musical variety. I'll say it again - it's an inspired combination - maybe even Acey's best so far - and it would be nice to see this collaboration extend for a couple more albums.
RIP
Producer J Dilla aka Jay Dee (James Yancy), former member of Slum Village,
has passed away
at the age of 32. "Early reports suggest he succumbed to kidney failure, a medical problem which arose in 2004." A prolific producer, he worked with A Tribe Called Quest, Kanye West, Busta Rhymes and Common and also recorded as Jaylib with fellow producer Madlib.