Two Hearts Beat As One
Day 3 of digitized vinyl "ripped from the '80s" and it's a classic little remix...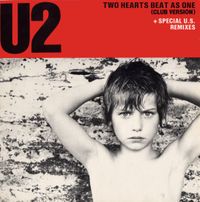 U2
are one of those bands that tends to polarize people - you either love 'em or you don't. Me, I love 'em. It goes back to their very first album, 1980's
Boy
. I was mesmerized by the riffs of it's first single
I Will Follow
, and a long standing love/hate relationship was born. I say love/hate because there came a time when I decided I didn't like them anymore - right after
The Joshua Tree
stormed the world with it's anthemic hits. At that point the pomposity seemed to overtake the music. I eventually came back into the fold years later with
Achtung Baby
, but I digress. In 1983 they were about to really break through - the LP
War
was on it's way, and it's opening single was
New Year's Day
. A monster piano riff, those "Edge-y" guitars and the vid with the band in the snow all seared itself into the public consciousness. The follow-up was the very post-punk
Two Hearts Beat As One
. It was available as a limited edition 2x7", with the second single containing two remixes by the legendary
François K
. One was a version of
New Years Day
and the other was
Two Hearts Beat As One (François Kevorkian Remix)
. While they aren't exactly your typical dance floor fodder, these tunes worked pretty well in their stretched out formats. This track in particular has a very funky bass riff, and I like the punched up rhythms and the tautness of the arrangement. It's funny, but this production sounds very "now", what with The DFA and some of the other second generation of post punkers adopting a very similar modus operandi.