Funky Friday - Evening Edition
It's been a busy week at work and Spring has sprung - it's been in the '70s and sunny every day. As a result I've been spending my free time in the yard cleaning up all the winter debris, soaking up the sun and watching the kids play and having a beer or two instead of posting here. Now that the sun is setting I'm taking a quick moment to get in a couple of special requests...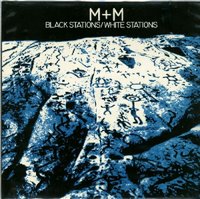 This one goes out to
ModFab
who enjoyed the
M+M
post from March 27th. He said 'I'd dearly love to hear "Black Stations/White Stations", but is that too mainstream for a site like SIART?'. No. Enjoy the album version of their minor hit from 1984,
Black Stations/White Stations
.
I-Level Redux
This is a special request - a repost from April 1, 2005...
I Level
were a trio comprised of Jo Dworniak, Duncan Bridgeman and Sam Jones. Their first single was
Give Me
, and it was a hit in both the UK and the US (top 5 of the R'n'B charts at the time). They released a couple more singles and an album but none of it found the success that the first single had. After a second album in 1985 failed to sell they disbanded. Their music had it's own thing going - a blend of US funk, Brit white boy electronics and the West African vibe that singer Sam's voice brought.
Give Me (US Remix)
is a
John Luongo
remix of their first single that can be found on the b-side of their second single
Minefield
. I've always loved the bass line and the blippy keyboard riff on this, and Sam's reggae tinged vocals are fantastic. A very groovin' tune that still sounds pretty unique today.